BLACKHAWK TO RELEASE JUST ABOUT RIGHT: LIVE FROM ATLANTA ON FRIDAY, NOVEMBER 13
BLACKHAWK TO RELEASE JUST ABOUT RIGHT: LIVE FROM ATLANTA ON FRIDAY, NOVEMBER 13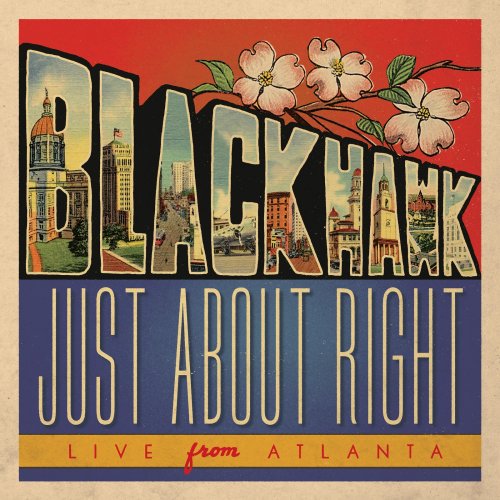 BLACKHAWK TO RELEASE JUST ABOUT RIGHT: LIVE FROM ATLANTA ON FRIDAY, NOVEMBER 13Nashville, Tenn. (November 2, 2020) — Platinum-selling country music group BlackHawk returns to the scene with a two-disc greatest hits project titled Just About Right: Live From Atlanta. The new album, recorded live acoustically from Eddie's Attic in Atlanta, Georgia, will drop Friday, November 13th via BFD / Audium Nashville / The Orchard.
Known for their smooth, brother-like harmonies, BlackHawk was originally made up of trio Henry Paul (lead vocals, mandolin, acoustic guitar), Dave Robbins (harmony vocals, keyboard) and the late Van Stephenson (harmony vocals, electric guitar).
Recording Just About Right gave Paul and Robbins the chance to reunite with their original backing band from the 90s, performing again alongside Bobby Huff (percussion) and Dale Oliver (lead guitar). Paul explains that this reunion "made for a very memorable musical moment. Many of the songs we chose were personal favorites from our early records spanning nearly a decade." Fans will recognize top hits including "Goodbye Says It All," "Every Once in a While," "I Sure Can Smell the Rain," "That's Just About Right" and 18 more of the band's applauded tracks.
"Making a live BlackHawk acoustic recording takes me back to when Henry, Van, and I started writing and singing together as a trio," says Dave Robbins. "It's representative of BlackHawk in its purist form, having old friends join us on stage and tried-and-true fans makes everything 'just about right' on that special night in Atlanta."
"Having this music that's so special to us performed by the people that helped create it sets this double live album apart from anything we've recorded and released," Paul continues. "I especially love the acoustic nature of this collection because it casts these songs in the true spirit in which they were written."
Just About Right: Live From Atlanta will be available to purchase, download and stream everywhere on Friday, November 13th. Receive insta-grat track and lead single "That's Just About Right" instantly, when you pre-save and pre-order the live acoustic record:
https://orcd.co/BlackHawkJustAboutRightLive
Just About Right: Live From Atlanta Track Listing:
Disc 1
1. Down in Flames (M. Clark, J. Stevens)
2. Goodbye Says It All (C. Black, B. Fischer, J. McRae)
3. Every Once in a While (H. Paul, D. Robbins, V. Stephenson)
4. Love Like This (P. Bunch, M. Kennedy, P. Rose)
5. Let Em' Whirl (H. Paul. V. Stephenson, G. Jennings)
6. Almost a Memory Now (D. Robbins, V. Stephenson, D. Oliver)
7. Wichita (D. Robbins, T. Robbins, T. Gates)
8. I'm Not Strong Enough to Say No (R. Lange)
9. Ships of Heaven (V. Stephenson)
10. Ain't No Yesterday (W. Aldridge, M. Narmore)
11. Always Have, Always Will (D. Robbins)
Disc 2
1. Days of America (H. Paul, D. Robbins, L. Miller)
2. Dances With Her Shadow (H. Paul, D. Robbins, V. Stephenson, D. Oliver)
3. Bluest Eyes in Texas (D. Robbins, V. Stephenson, T. DuBois)
4. Spirit Dancer (H. Paul, D Robbins, J. Peterick)
5. There You Have It (S. Bogard, R. Giles)
6. Brothers of the Southland (H. Paul, D. Robbins, J. Peterick)
7. One More Heartache (H. Paul, D. Robbins, V. Stephenson)
8. I Sure Can Smell the Rain (W. Aldridge, J. Jarrard)
9. That's Just About Right (J. Black)
10. Postmarked Birmingham (P. Vasser, D. Sampson)
11. Big Guitar (H. Paul, H. Gross)
Produced by Henry Paul & Dave Robbins
Mixed by Travis Hearheart
Recorded at Eddie's Attic in Decatur, Georgia